Welcome To A*starz! Keeshonden & Pomeranians
Started in 1979, we are a reputable breeder of kees and keeshond lifestyle coordinators. While we primarily breed to produce at least one puppy from each litter to carry on according to the AKC Breed Standard, we also have companions & action kees in each litter too. We have over 110 homebred titled kees... most of our dogs are shown to their titles by their owners.
Feel free to contact us via email if you have questions about the breed, are trying to find the right kees for you, or anything relating to the kees breed. We'd be happy to help you.
We register our dogs with the American Kennel Club. We adhere to the Keeshond Club of America Code of Ethics. Our kees are raised in our home with limited vaccines, limited topicals, in a smoke-free environment. We follow the program of "MNR" Modern Natural Rearing. Our kees come from generations of health tested clear kees.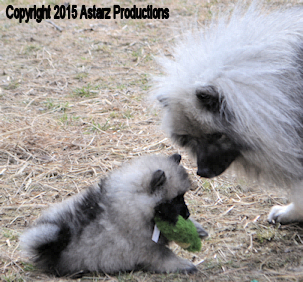 We refer to reputable breeders only. Beware of backyard breeders (those that have "parents on premises") or volume breeders who are those that advertise on the Internet "quick find" pet sites. They always have puppies available. Unfortunately, they do very little health testing & their kees are usually very large, dark, short-coated & resemble German Shepherds, not Kees. Please check out our information pages before purchasing a kees.
Contact Info
A*starz Kees is located in the eastern panhandle of West Virginia in the USA.
Phone: 304-258-0292 (EASTERN time) We prefer email contact
E-mail: keeshond@astarz.net

Facebook Contact Us On Facebook