A*starz Keeshonden

This used to be the page to find Keeshonden Available from reputable sources. The page ran from 2004-2018 and now is retired.

To find a kees from a reputable source,
see the Keeshond Club of America's Breeder's listing page: Click Here
Last Updated: 1/3/2019

---

To help with your search, read on....

Notice this banner ...



With this status AND the breeder being a member of the Keeshond Club of America, you can be assured the breeder is reputable. Most have companion kees available in their litters.

Be aware when searching for a kees, whether a puppy or older kees, there are those that exploit the Kees breed by "volume breeding" and "backyard breeding". Volume breeders are those that produce many litters a year and always have puppies available. Backyard breeders are those that have "parents on premisis" and breed their own to their own. They don't breed to better the breed. Both of these kinds of breeders are only in it for the money.
They might have great looking web sites where they show happy people with puppies going to new homes. Look closer.... do those kees really look like the ones you see on TV at the dog shows? Do they look like a quality puppy, or do they look like long-haired German Shepherds? Look at the mom-dog, does she look like a big rangy thing with a collie head and a floppy tail?
Most of these folks sell puppies with little, if any, attention to the health, temperament and quality of either their breeding stock or their puppies.
If you have decided you want a Keeshond, please do not buy from someone who is simply producing puppies for sale. Beware of folks who "breed for pets". Beware of those breeding "odd color kees". Kees colors are a combo of black, cream and gray. Not white, not parti color, not merle color. Those that are breeding for pets or color are really breeding for money. Red flags would be that they have puppies available most of the time, advertise on Internet sites such as "Next Day Pets". Talk to and buy from responsible, ethical breeders who continuously study pedigrees, do health checks and participate in organizations and activities to increase their knowledge of the breed and of their dogs. They will not just take your money but will help you confirm that a Keeshond is the right breed for you. If you do add a Keeshond to your family, a reputable breeder will be there to answer your many questions and serve as your mentor for the life of your dog.

Here are what quality kees puppies look like: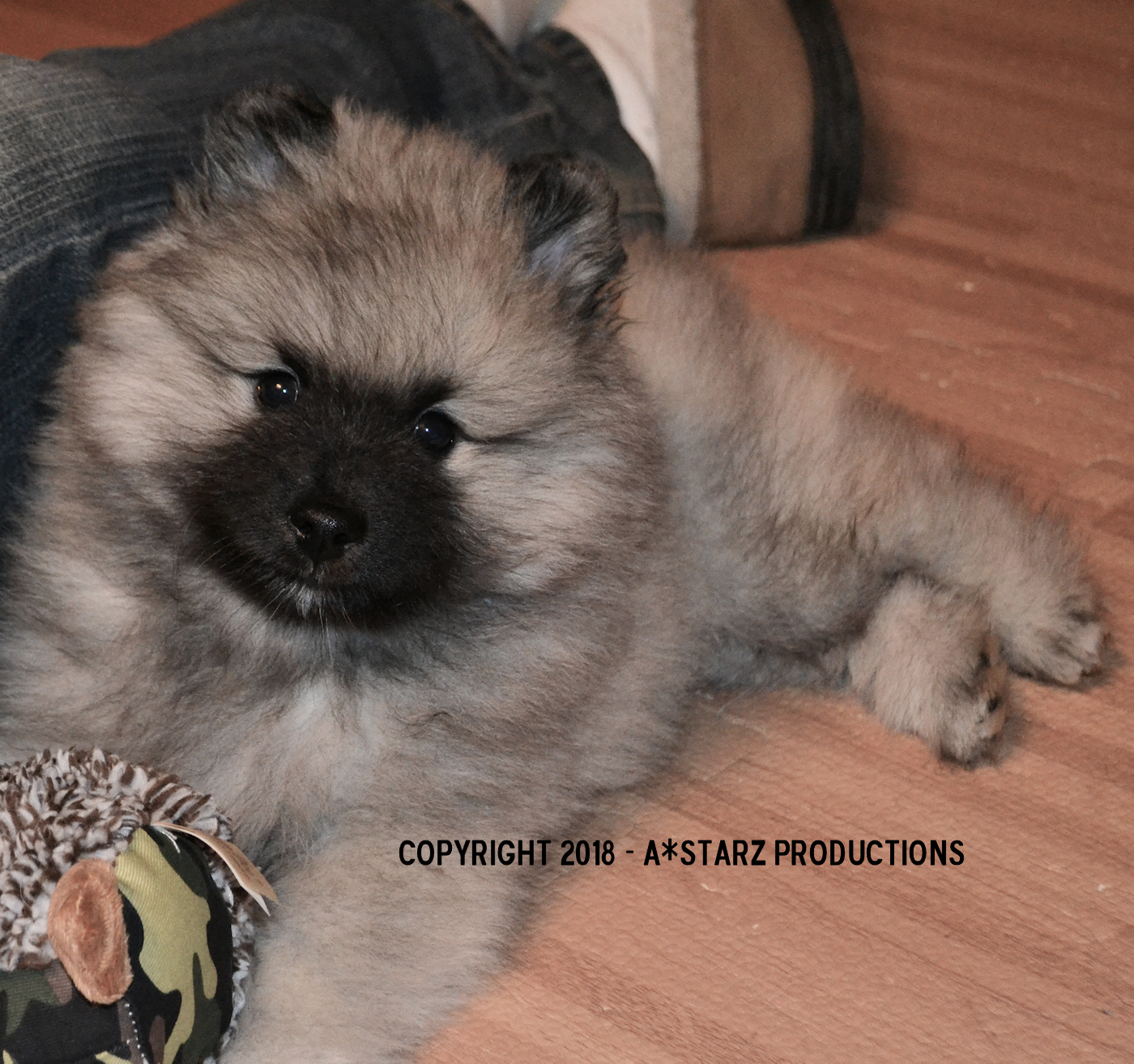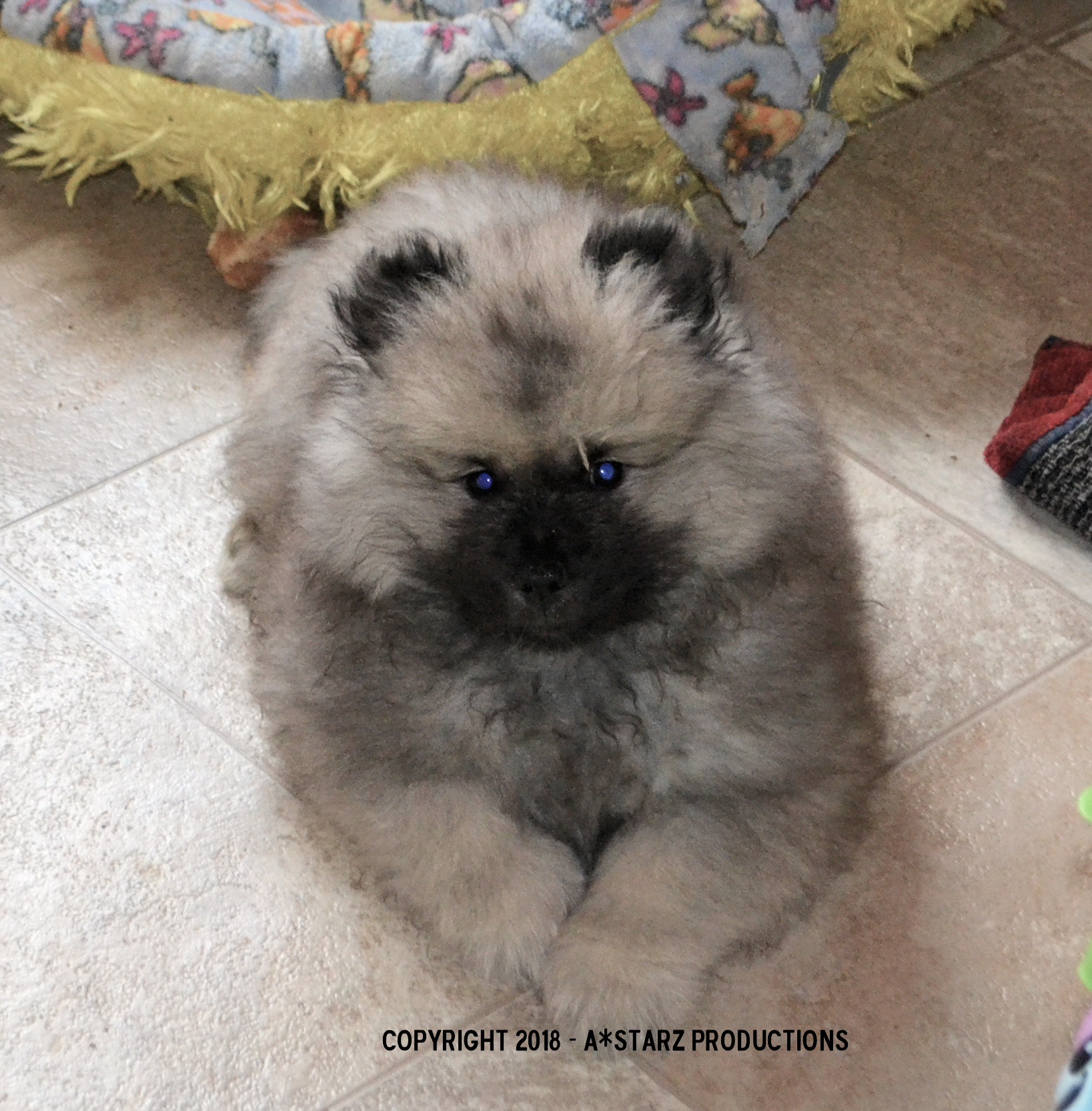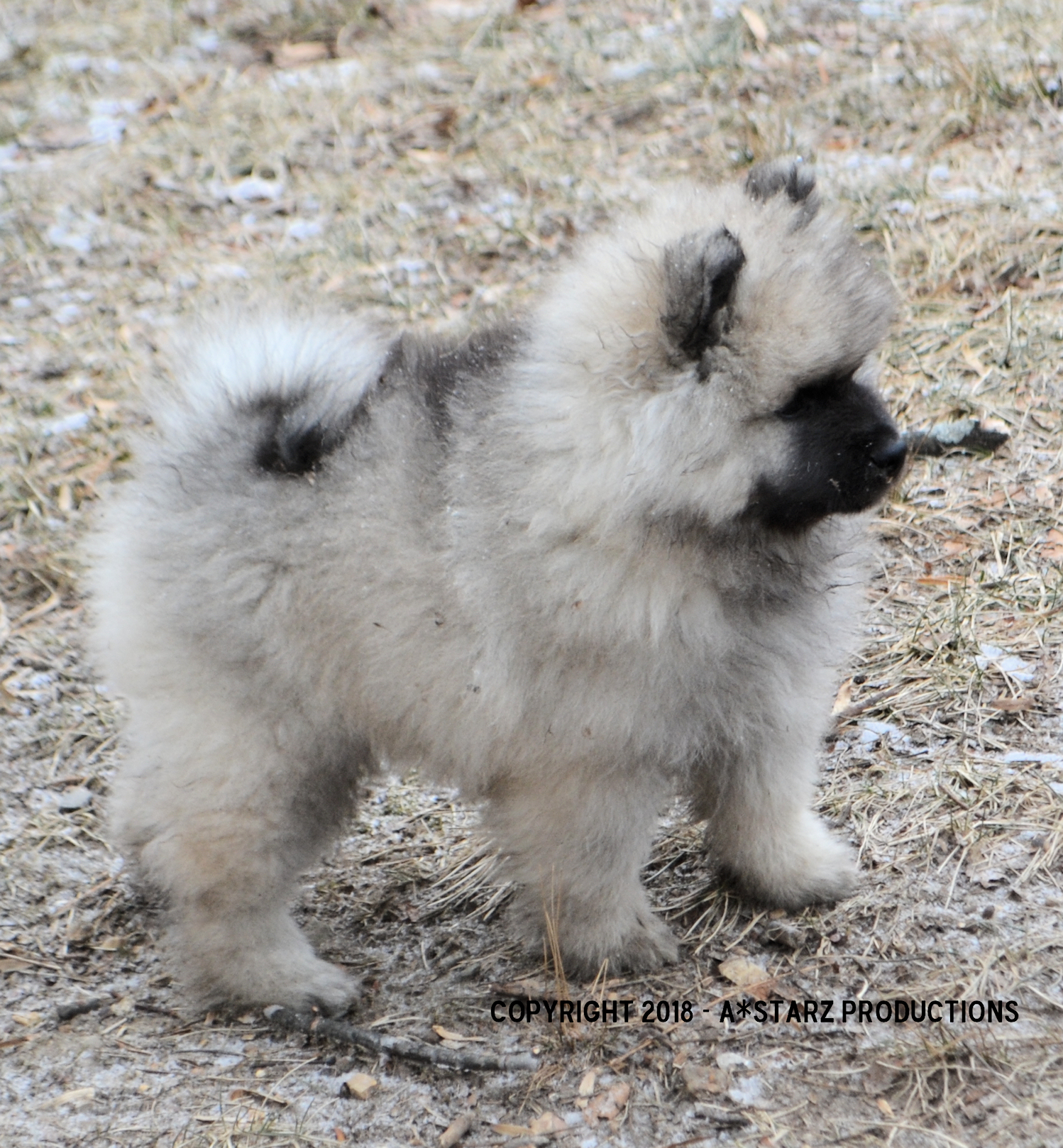 BEWARE of volume keeshond breeders posing as reputable, ethical breeders. THEY ARE NOT. They sell over 100 puppies per year for a good income. ASK QUESTIONS. Chances are, if your puppy or it's parents are registered with the Continental Kennel Club, it is NOT from a reputable breeder. A reputable breeder will have GENERATIONS of health tested kees with documents to go with them. A reputable breeder will have GENERATIONS of American Kennel Club Champions immediately in the 1st and 2nd generation behind your puppy, whether it is pet or show. You should not have to "dig" back into the 4th generation or farther to find a Champion! BEWARE! These folks are out to make money and they are NOT about producing quality kees. Don't take their word for it. Check them out and contact the Keeshond Club of America (KCA). www.keeshond.org. If your breeder is not affiliated with KCA, chances are, there is a good reason why!

NOTE: All sire/dams should have MINIMUM OFAd (Fair, Good or Excellent) and PHPT Testing (Primary Hyperparathyroid). Dog test results should include "VPI" Verified Permanent Identification. In addition, the following tests may also have been performed & we encourage: stifle checks, thyroid clear, eye tests (CERF), Cardiac clearances, etc. ASK for hard copy of these documents. Do not assume, just because the breeder says the tests have been done, that they have. Get the documents!

You can check parent's health testing at the Orthopedic Foundation For Animals: www.ofa.org

Litters from reputable sources should contain both companion and show puppies. Most breeders don't have "all show quality" litters. Please ask the breeder when you contact them about the availability of companion kees.



Click here for QUESTIONS TO ASK BREEDERS Questions to ask breeders when looking for a kees pup
It is *very important* that you ask and be aware of these questions! They could save you pain & heartbreak later.


---
If you are interested in an A*starz puppy, more information about our stud dogs or for referrals to other reputable breeders who may be having A*starz related litters (we refer to everyone whether A*starz related or not), older dogs or rescue kees, feel free to contact us at the address below.
Also refer to History of A*starz

For info about particular dogs, see A*starz Dogs Info Pages



A*STARZ TOP PICK PUPPIES - YES, We Do Sell Our Best!
If you are interested in SHOW or PERFORMANCE prospect pups, we may have the right one for you. Since we have a personal dog limit of 5 (and we don't keep boys), some of our best go to serious, loving show and performance homes. We can't keep them all! If you think you may be interested, contact us for details soon, as these special kids will be spoken for early on!

Note that we do have companion pups in each litter, however, most often they are spoken for about 6mos+ in advance.



If you are interested in a RESCUE KEES (100% recycled keeshond), see Keeshond Rescue of North America ...
click here!
A*starz Keeshonden
Donna Stekli & Lemuel Burnett
in WV



All images on this page are property of A*starz Productions and may not be used without written permission of A*starz Productions.